Below are some pictures from a Mustang show I attended
in the Fall of 2002. It was my first show. I was placed in a modified
convertible class even though my car is stock. Next time I'll have
to insist on a stock class. Although, the retired police units and
'79 pace car looked like tough competition, too!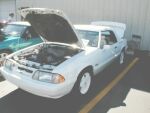 It was a very sunny day so my pictures turned out
dark. I had to brighten the photos to see more detail. That's why
they are a little washed out.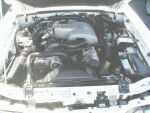 And finally, next to a 1993 Yellow Feature Mustang.