Not that I like to brag but I got a set of brand new
white Ford OEM wheels correct for 1993 feature cars. Four wheels
for $339.80 delivered to my door. I don't think of this as bragging
because you can get some, too. If you hurry. Read on.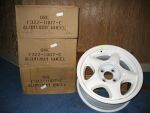 My wheels are showing the argent color that is underneath
the white in many places. Brake dust does horrible damage. Not to
mention a previous owner hit an occasional curb and there are various
scratches down to the metal. Add to that the weights that were mounted
on the outside wheel lip from a previous tire balancing and the
whole thing adds up to a real mess.
When I was reading the December 2004 issue of Mustang
Times I spotted an ad for National
Parts Depot and a Fox-body Mustang Parts Blowout they were having.
They had several feature car-specific parts listed including OEM
white wheels for $84.95 each (no center caps). Well at the time
I was a little short on cash so I didn't act. The same ad was in
the January 2005 issue and I finally did get off my butt and order
some of the wheels. It turns out the shipping is free! This is a
great deal. As a reference, right now there is a listing on ebay
for four new white wheels (also with no center caps) with a current
bid of $450 before shipping. Bahhhh.
When I originally ordered mine on January 5, they
said they had 78. I called this morning (Jan. 13) and they somehow
had over 80 left. There is still time to act. The blowout
page has other feature car parts listed, too. Mostly trim. No floor
mats or center caps. Although, not feature car-specific, they do
have a9black convertible top for just under $400. I don't think
Ford stocks these anymore so it too is a rare find. I wish they
had white tops because I would grab one at that price. I think the
last time I saw one it was closer to $1000.
By the way, if you were in my registry
you would have known about this sale on January 7 via a special
email to registry members. A bunch of registry members have already
taken advantage of this sale. So, there are benefits to registration!