I have occasionally commented/complained that updating parts of this site are manually intensive. The major piece to that is the "Where are they now" section. Also, as that section grows, it gets more unwieldy to use and in the size of the page itself. It is approaching 1/2 Mbyte which must be painful on a dial up connection. The problem is that I maintain that information in a standalone, offline database and generate static web pages from it when I do the updates. This static nature leads to both of the above mentioned problems. As the next enhancement to this site, I am working on bringing the database online and writing a better interface to it that allows you to directly interact with it in order to get a dynamic presentation of the data that has been collected. You won't have to deal with the whole list at once as it will be presented with a fixed number of entries per page and there will be a better way for you to "drill down" to a specific set of entries. Here is a screen shot of the current "working model":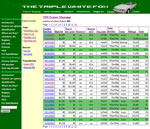 After that, the registry will get a similar update for it uses the same offline database concept. And, it requires my manual intervention every time someone registers a car. You will probably not see any visible changes after this update but it will make my life easier.
I don't have a timeframe on any of this but, as you may know if you have emailed me lately, I have been spending most of the little free time I have on getting it up and running (and subsequently not on email).