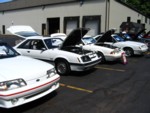 I have been extremely busy lately. Last weekend I attended my first show of the season. It was the most fun show I've ever attended. This was mainly because I met up with two triplewhitefox.com web site members. They were Kevin, the owner of another white '93 feature car, who I've met before and Mike, the owner of a red '92 feature car, that I met for the first time. When Mike introduced himself I was near my car talking with the guy next to me who had a sweet '84 GT350. He asked if I was John from triplewhitefox.com. It was kind of a cool to be recognized because of this site.
It was great to talk with them and check out their cars. It's at those times that you realize that the things you notice on your car that seem peculiar also often turn out to be quirks on other similar cars.
I have been really busy with this site. You just haven't seen the results of my efforts and hopefully they will remain transparent to you. My web host is requiring me to move my site to a different server. If you are involved with information technology you know that can require a lot of time to make sure things go right. I have a collection of static content, applications I wrote myself (for the Where Are they now? and registry sections), a couple of packaged application (for the forum and this blog) and several databases behind the whole thing that all need to be loaded on the new server and configured. To complicate things, the new server uses slightly different versions of its components.
If it all goes right you will never know the site has moved. If you do experience any type of error accessing the site, rest assured, it did not go away permanently and will be back on-line shortly. The new server has some new features like polls and so on that I may be able to build into this site. Hopefully it will be worth the effort.
This upgrade combined with all of my projects around the house and spending time with my favorite little guy mean I don't have a lot of free time for content updates to this site. As soon as things settle down a little I will be moving forward with some new ideas I have.