Ford Customer Service Provides "Build Sheets"
Posted On June 23, 2007
I've heard about and seen letters from Ford to Mustang owners providing information on original options. Some time ago Ron sent me a copy of his along with the phone number to call to request one. I never got around to it until I decided recently that I should document the history of my car. I called the Ford Customer Service number (800-392-3673) on a Monday to request it. They said it was referred to as a "build sheet." They also said I would receive a call from the Research Department with one or two days.
Finally, on Friday of the same week, I received a call asking me whether I wanted the document emailed or snail mailed to me. I opted for the hard copy which was to take 7 to 10 days. Sure enough on the following Friday, I received the letter in the mail. Here it is (click on it for a larger version):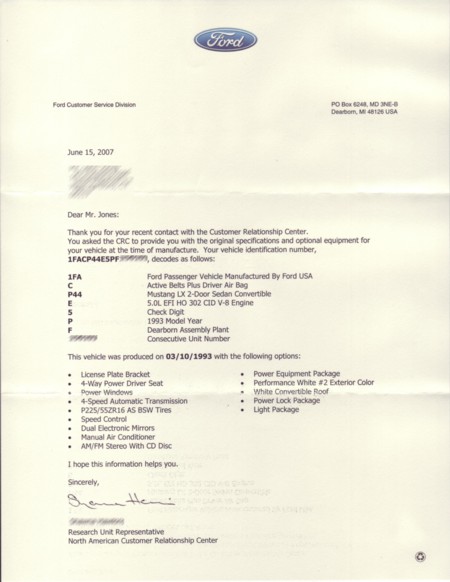 No surprises here. The woman in research told me that this is the only thing they provide and that it would be the same content as the window sticker less the MSRP numbers. But, as I expected and had seen before, the "Feature Car" option is not specifically listed as it was on window stickers. The only thing I can figure out is that the "Performance White #2 Exterior Color" is somehow indicative of the feature car package. Maybe the "#2" is significant. I suppose I would have to compare this to a build sheet from a white non-feature car Mustang convertible to figure it out. If you have one let me know. Also, if you have one of these for a yellow 93 or red 92, please consider providing me a copy. I promise that, if I publish it, I will remove your personal information as well as your VIN as I did in my own.