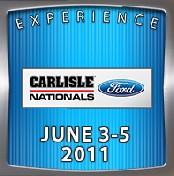 It's been a long, hard winter. So, it's been good to start thinking about the show season ahead.
This week I put together the updates to the site regarding planning for getting the feature cars together at the 2011 Carlisle Ford Nationals to be held in Carlisle, PA from June 3-5, 2011. The main Carlisle information page is posted here.
5pt0joe is again organizing a cruise down from New England. I'll be joining that and his information and registration page is here.
I just filled out the tent registration form and will be sending that in. Every year I have gone to Carlisle the tent has been invaluable. The price has increased slightly again and, as usual, I will be asking for donations from attendees to help defray the cost.
If you can think of ways to help spread the word, I'd love to hear them. Maybe via your local club or through other sites you visit.
Stay tuned for more updates as we get closer.