If you follow the TWFÂ Facebook page, you might have seen my post on winning Gold in the Unrestored class at the 2012 Ocean State Mustang Nationals. This was my first experience at an MCA show and it was more intense than any other show I have attended. But, the end result was that it was more rewarding than any other show.
I am not doing this review of my judging sheet as a critique of the judges or the judging process. They did an excellent job and found everything that I would have found had I been judging my car. I am doing this because I thought a breakdown of the scoring sheet might be helpful to others in determining where they might lose points and to what degree something might be OK or not OK. Â I imagine that a different set of judges might have given me different deductions, though, hopefully with the same Gold result. This is a human process, after all.
Beforehand, I detailed my car for 20-30 hours above and beyond what I normally do for the popular vote shows. It is hard to say exactly how many hours but I went over everything inside, outside and underneath. I think I spent about 6-8 hours under the car and engine bay. This turned out to be overkill. The show field was grass, cut at the customary 3″, which resulted in that much less ability to see under the car. On asphalt, my work would have been more apparent.
On the morning of the judging I spent nearly fours hours with the final detailing. The 2 hour drive to RI was partly in the rain. I had detailed my car during the preceding weeks only in the garage and the outdoor light on the show field revealed some low points. The beginning of the morning had shade on my car. This was also helpful. In the bright sunlight, some crevices are in full shadow. In overcast weather or shade, these areas are more easy to see into.
I was present when the three judges went over my car. I did not interfere and only spoke when spoken to. Well, except on a door tag issue where they were trying to verify my car was a feature car using the interior code. I pointed them in the right direction. Otherwise, I resisted the urge to try to point out things I thought might influence the results.
The first thing I was marked on was my door weatherstrip. I think this "cracking" could be from getting in and out but I doubt it. The door sill is not scuffed in any regard. This must be due to my sagging map pocket. For many years, it sagged low enough to get closed between the door and weatherstrip thus resulting in wear. When this wear was called out, one of the judges, the one who was doing the note writing, remarked that this type of wear was present on his car.
Apparently, it was not bad enough to warrant a deduction (a dash in the deduction column).

Admittedly, my top is the weak point of my car. It is, of course, original. With 53,000 miles it has been down a lot. I rarely drive the car with the top up. There is one large hole and several cracks. This is by far the worst –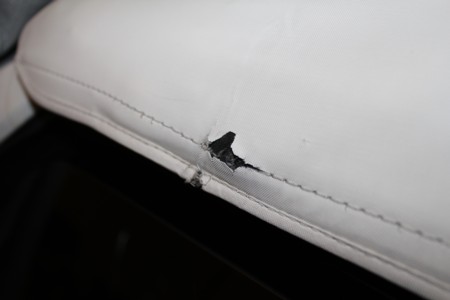 One of my primary motivations for bringing the car at this point to an MCA show and showing in unrestored vs. occasionally driven was to attempt a gold before the top needs to be replaced. The thinking was that if I could achieve gold then replace the top I could state this is a gold car and the only thing replaced since the gold was the top.

The next one was a simple deduction, not the original battery –

Another easy one, incorrect oil filter –

Finally, I didn't have a lot for extra points. I think I will work harder for a few more of these next time.
So, that's how it breaks down. I think I still have some room for improvement. I don't think I will ever get a perfect score but I am very happy with the result this time out.
Here is my full judging sheet: 2012 Ocean State Nationals Judging Sheet for URB-G25