<>I have occasionally mentioned my first Mustang before on this site. It was a 1991 LX hatchback. It was the only car I really missed after I sold it. Actually, I haven't owned that many cars. Besides the triple white fox and that '91 LX, I have had a 1993 Probe GT and a 1999 Explorer XLT (which is my current daily driver). Here is a picture of that first Mustang taken in one of the neighborhoods in the town that I grew up in. Now that I look at it, I notice that the other cars in the picture are both Fords. This is interesting but a total coincidence.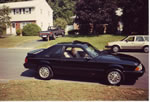 I owned the '91 LX from 1991 to 1993 and since I had no digital camera at the time, the only pictures I have were taken with regular film cameras. Now that I have a scanner, I finally can have them in electronic form.
It was the first car I could call my own and I purchased it new at the end of my senior year of college. The car had a 4 cylinder engine with an automatic. I regretted both decisions. Although, it came with the optional 10 hole wheels which made it a 5.0 look-alike. Here is a Polaroid snapshot of it in my parent's driveway (that's my Dad in the background.)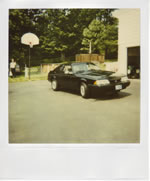 I kept it stock adding only the Ford Motorsport splash guards (the same as I now have on my 1993) and an aftermarket sunroof. I had to have a sunroof but, in hindsight, that was probably the stupidest thing that I could have done to the car. I often wonder where it is today and if that sunroof ever had any leaks. Someday, I'd like to run a carfax on it to see what comes up.
If you look closely at the pictures, you will see a pin stripe on the car. Some feature Mustangs have a pin stripe and I have been asked whether it came from the factory or not. I suspect that on the feature cars, it did not. But, on my LX, I had a gray stripe. This was the way it was delivered to me from the dealer. The dealer I purchased it at was not in the habit of adding options so I suspect that the car came from the factory that way.
The same day that I test drove and purchased that LX, I also drove a 1990 Emerald Green Limited Edition 5.0 LX Convertible. It was barely used and had served as a salesman's car. I think they were asking around $17,000 for it. That was too much for me and the insurance would have really killed me. That makes the LX 5.0 'vert the first Mustang I ever drove so I can trace my attraction to fox body convertibles back to that test drive. That and they were the style of Mustangs that were new when I was in high school. I still remember drooling over a black 1989 LX 5.0 Coupe at the local Ford dealership.
My '91 LX served me well. The only issue I had with it was, not surprisingly, poor handling in bad weather. I never let that stop me though and, as a result, I have several interesting stories about driving it in poor road conditions. Following is one where I was lucky to come out with the car unscathed.
At the time I owned that Mustang, my girlfriend's (now wife's) mother lived in Vermont. We made many trips up there to see her. On one visit we left early in the morning to head home. The night before we had had an ice storm but we heard that the highway was clear. We just had to get to it. We started down the steep road that led from her place to the main road. It was a half mile stretch of dirt road that noticeably crested in the center and sloped to the sides in order to allow water run off. The road was a sheet of ice and, even though we were traveling around 10 miles an hour, about a quarter of the way down the rear end of the car came around. It seemed like it happened in slow motion. Luckily we did not hit anything.
After the 180 degree spin we were left facing up the hill. Rather than attempting a near impossible return up the ice covered hill I decided to back down the remainder of the road. Since no other cars were out, traffic was not a problem for this risky maneuver. Before long we were near the bottom. Unfortunately, about 100 feet from the bottom, the car started sliding toward the edge of the road. It was impossible to correct this and we ended up in the gutter and could not get enough traction to get out. The side of the road was a steep embankment that was near vertical which we luckily did not hit.
With no way to continue backward, we got out of the car and looked for help. We walked back up the hill to a neighbor's house. He took us back down to the Mustang in his Bronco. Without giving us a choice which way we wanted to go (100 feet down or ½ mile up) he towed us back up the hill. We spent the rest of the morning waiting for the ice to melt.
I sold the LX in 1993 to buy a front wheel drive car which consequently gave me more horsepower and the 5 speed manual transmission I originally had wanted. But, it wasn't a Mustang.