I just got back from Florida where I had the opportunity to rent and drive a 2006 Mustang. It was nice to get behind the wheel of a Mustang during the usual time of year when I don't get to drive anything fun. Well, alright, 4wd in the snow when no one else is around can be fun.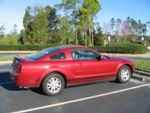 I had reserved a convertible Mustang (or similar) through Budget. When I got there, all they had for convertibles was the Chrysler Sebring. I have nothing against that car but there was no way I was going to be happy with it when I had been expecting a Mustang. The guy at the counter searched to see if he could find one but came back and said it was either the Sebring or he could get me a hardtop Mustang for cheaper. I went with the hardtop. The going rate for it was more than what I had reserved the convertible for so he gave it to me for to the compact car rate. It was a pretty good deal!
Overall, I didn't do a whole lot of driving but I think I spent enough time with it to determine that it's a really great car and I wouldn't mind having one. I enjoyed it alot and the V6 had plenty of pep. I drove it around the Orlando area so there were few opportunities to really get on it. Maybe in a couple years when I'm ready to get a new car, I'll seriously consider one as a daily driver. The V6 might be OK in that regard as long as I have my V8 convertible.