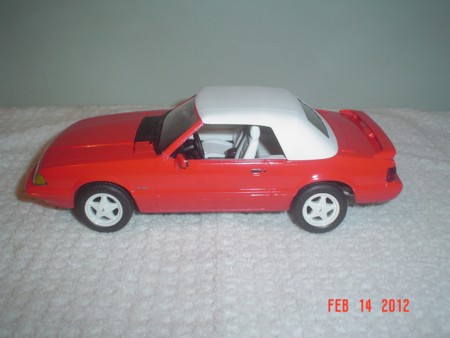 Mike G. just emailed me to provide pictures of his scale replica of his 1992 Feature car. We've seen one before for the 1993 Mustang but this is a nice set of pics of an outstanding effort. I asked Mike for some details on the build and he was glad to provide them –
I used a combination of three kits to build this.  The main kit being a Monogram '91 Mustang GT convertible.  The engine, chassis, interior and main body parts came from this kit.  I bought a resin body kit for an LX coupe back in the mid-1990's that was made to fit the Monogram kit's chassis and I used the nose, rocker panels and rear valence from that to convert the GT body into an LX.  With the body mods completed, I used a Monogram '93 Cobra kit for several of the finishing details such as the airbag steering wheel, exhaust with straight tips, tail lights and rear spoiler.  The spoiler required some modifications but it was a good starting point.  I can't remember the maker/seller of the resin body but I ordered it online and recall paying somewhere in the $30.00-$40.00 range for it.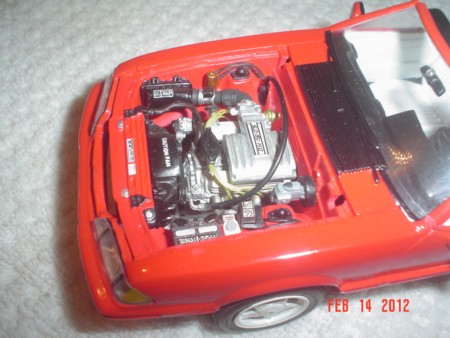 This reminded me that there was an article in the June 1992 edition of Scale Auto Enthusiast that can provide more inspiration for a project such as this. I have mentioned it but never included many details of it on this site. So, I have posted some details on it in the 1992Â and 1993 "Scale Replicas" sections of this site. Also, I have given Mike's car a permanent home on its own page with more, and larger pictures.
Despite my best intentions for attempting a project like this, I've never started my own. Kudos to Mike for sticking with this project and producing an amazing result!