This is quite possibly the best deal on feature car parts right now. NOS Ford with Carlite glass for your bright white topped 1993 feature car. It's on ebay with a BIN of $189 plus $89 shipping.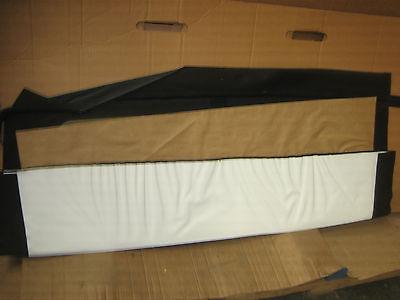 One is listed but the description hints that there are more - 
"WE HAVE A BACKGLASS,OEM FORD GLASS FITTING THE MUSTANG CONVERTIBLE 1993 IT HAS THE "BRIGHT WHITE" CANVAS AND THE VELCRO PATCHES WE ARE OVERSTOCKED AT THE MOMENT SO WE ARE MAKING,FOR A SHORT TIME ONLY A DRASTIC PRICE REDUCTION!

ANY QUESTIONS,AND THERE USUALLY IS ON THESE PLEASE FORWARD"
An aftermarket reproduction goes for nearly this much. Also, consider that the black OE Ford version is listed for $575. And, there is a blue version in that same price range.
Also, nevermind that the listing is YELLING at you - Bobby at BK Auto Glass is a nice guy. I met him in person when I visited his warehouse in Belleville, NJ when I bought my own top glass for this same low price. I had a few questions. Actually, I might be responsible for the "any questions, there usually is" part in the description (BTW, by 'canvas' he means vinyl). And, I had also asked questions previously when this was listed at $500. We went back and forth on email on the latest listing but I just wanted to see in person what he had so I made the trip. At the time it was mid-summer and I took the whole family. It was a trip to New Jersey, after all.
Bobby provided great customer service. He's a nice friendly guy and had pulled out several examples of his stock for our visit. While he sells glass for nearly ever make and model he enthusiatically discussed Mustangs and told us about his latest glass sale to a Mustang owner. One of his employees owns a fox body hatchback and had a huge fox poster over his desk. Shortly after we left BK Auto Glass, Bobby sent me a followup message saying how it was nice to meet with me and my boys who, by the way, were allowed in his glass warehouse. An 8 and a 10 year old were welcome in a glass warehouse.
When it was shipped, my top glass was packaged very well and arrived in one piece. It was slightly wrinkled but he ensured me that they would come out. And they almost entirely did.
That day of the visit, I thought that I needed to share that great experience. I unfortunately never did. But, today I was surposed to find them still listing the top glass on ebay for that same low price. BK Auto Glass is a small, local business that I'm happy to recommend escpecially to help them out of this bind of having too many of these.
And, I'm sorry I took a shot at New Jersey earlier. Actually, it was a great day when we made our visit. After we left Bobby we made the short drive to Liberty State Park where we took the ferry to Ellis Island and the Statue of Liberty and had a great outing. Now that it's December this is probably not as great of an idea.