At the 2019 Carlisle Ford Nationals, someone from Ford Performance Club Connect approached me and asked if I'd submit to be part of their program. I intended to do that shortly after I got home from the meetup. But, that didn't happen. Earlier this month, I had an email from the Club Connect program inviting me to register.

Ford Performance Club Connect describes the following as benefits - 
It's FREE!
Your club will be recognized by Ford as an official Ford Club
Your club is added to the map on FordPerformanceClubConnect.com
Potential new members can locate your club
Support from Ford Performance Club Connect for club events
Exclusive opportunities with Ford Performance.
So I registered right after I got the invite. I checked and it appears that we are now part of the program. And, that map that they mention has us nicely located near my home base.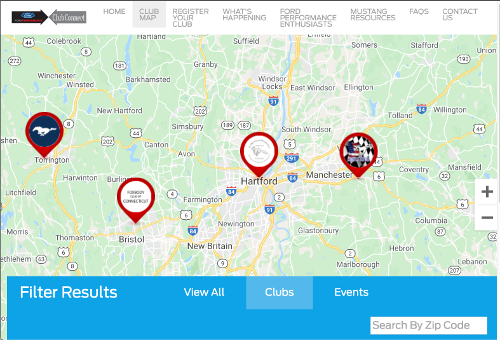 I'm exicited to have official Ford recognition. I know I've heard some others express that we clubs deserve more from Ford as we are literally offering free promotion for their brand. And, I tend to agree with that. Even as enthusiasts for a vehicle that has long been sold on Ford dealer lots, they still benefit from our interest. I'm sure many among us are like myself buying Ford branded merchandise, original Ford parts and even a brand new Mustang and then associated performance parts from Ford Performance.
I'm not sure what this will bring. I'll be back in touch with them before Carlisle in order to find out what the "support for club events" is about. I checked with them today but, given the current state, they are currently out of the office but assured me that once they are back they will offer full club support.