At first, I was unaware of a way to positively ID a Feature Mustang. A review of my archive of Mustang Monthly magazines revealed a way. In the November 1996 issue in the Late Model Corral section (p. 78) there was a letter from Tom Shepherd of Texas that detailed how to ID the 1984 1/2 GT 350, the 1993 Limited Editions and the 1993 Cobra through the body buck tag. The letter describes the body buck tag location on 1979-93 Mustangs as "on the front side of the radiator support near the hood latch". The photo below locates the body buck tag on my car. You can see it as the white curled piece the arrow is pointing to.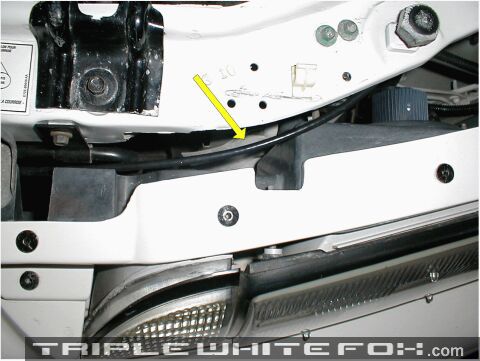 The article also describes the contents of the tag as follows:
The last six digits on the first line of the tag should be the same as the last six digits of the cars VIN.
The word "FEATURE" should be stamped into the tag a few lines below the first line. The word "ANNIV" is stamped into the 1984 1/2 GT 350 and "COBRA" is stamped in the tag for the '93 Cobra.
Below is a closeup of the tag on my car. You can see the "FEATURE" stamping.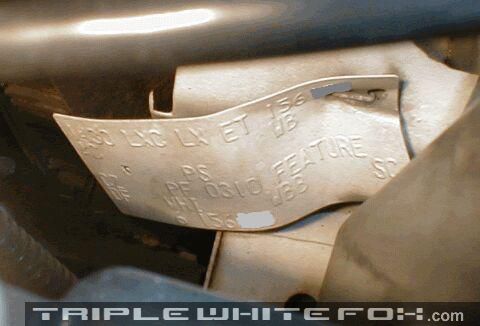 Here is a clearer look at the contents of the tag on my car:
1430 LXC LX ET 156xxx
AC             WB
        PS
CZ    PF 0310 FEATURE
DF   WHI     WBB     SC
      6 156xxx

LXC LX - Body style
ET - E = 5.0L V8, T=AOD
156xxx - sequence number matches last six numbers of VIN
AC - Air conditioning
WB - exterior paint code
CZ - interior trim code
PF - P = 1993, F = Ford
0310 - build date mm/dd => March 10
Related Information
1982 - 93 Special Service Mustang Body Buck Tag Information - how to locate and decode