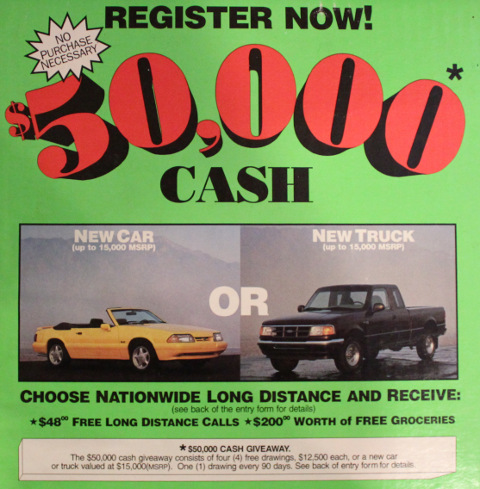 From my archives, this is from a contest that was run by Nationwide Long Distance, a telecommuncations company. This image appeared on the contest entry box and pictured two Ford stock images one being a 1993 canary yellow feature car.
The fine print - 
*$50,000 CASH GIVEAWAY. The $50,000 cash giveaway consists of four (4) free drawings, $12,500 each, or a new car or truck values at $15,000 (MSRP). One (1) drawing every 90 days. See back of entry form for details.
So, a winner couldn't actually get the feature car pictured (maybe the truck, though). Still, it was a great way to get attention. See below for more images of the box.
Thanks to Terry M. for providing me this piece of feature car history.