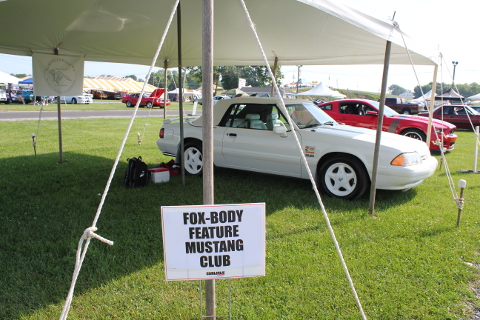 Earlier this week I reserved the tent for our Carlisle meetup. The cost was $175 so, again this year, I will be looking for donations to help defray the cost. When we meet at the show you are welcome to donate. Traditonally, $10-20 per member has worked. No pressure here - it's most important that we get together. Stop by regardless. It's always good to have some shelter from the sun.
There is still time to pre-register so you can get your window sticker by mail, be counted toward the triplewitefox.com members and save 10% over the gate price. Pre-registration is available up to May 4th. If we get 25 members to pre-register we get the tent for free. Remember that you can register your car with triplewhitefox.com as the club regardless of whether it is a feature car or not. You can park in any class you want and still be part of the "club".
This year is the 20th anniversary of the Carlisle Ford Nationals. They are planning a celebration event for Friday afternoon. They have not released any details yet as to what that might entail but add it to you calendars and be on the lookup for more details.
More information on the 2015 Carlisle Ford Nationals