My winter project is centered around seats. I have a few minor issues to take care of. Right now the driver's seat is out of my car. I'm swapping out the power seat switch and possibly going to tackle debugging a slowly leaking lumbar support. I have a second seat that I am using for reference and parts. While having the two side-by-side on the bench I noticed something. There are numbers marked on the bottom. In the picture below, my seat is on the left and has "3 8". My spare has "4 16". With my car being built on 3/10/1993 I think that the "3 8" could be a date. This might be widely known but I didn't know I'd find this.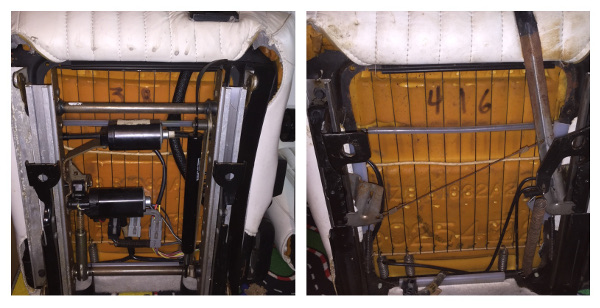 While I'm in the middle of this seat project I'm thinking this might be a good time to replace some of the plastics that seem to get scuffed and/or easily lost when you are dealing with seats. For me, it's the seat hinge covers which are pretty scratched and the seat track insulators (ends) of which one is missing. A search of the usual parts places and ebay turned up some leads but nothing really great - and by "great" I mean NOS.
Coincindently, Ron E. emailed me about seat parts. He had just watched the latest episode of My Classic Car on which they had a segment on Mustangs and power seats with Rich Schmidt from National Parts Depot - 
This segment covers classic Mustangs but Ron contacted NPD to see what they had for fox bodies. It turns out they are a good source as they have a lot of seat parts including some that are NOS and even some seat motors that might be useful to those looking for them.
1979-1993 Mustang Front Seat Parts
Mustang MOTOR ASSY SEAT REGULATOR UP/ DOWN MOTION
Mustang MOTOR ASSY SEAT REGULATOR FORWARD / BACKWARD MOTION
Mustang GEAR ASSY, SEAT REGULATOR, FORWARD / BACKWARD MOTION
I hadn't considered checking NPD and it turns out they have some of the parts that I can use for my project. Maybe they have something you can use, too.