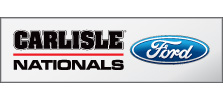 The eighth annual gathering of limited edition Mustang LX 5.0 Convertibles is being planned for the 2014 Carlisle All-Ford Nationals held from June 6-8, 2014 in Carlisle, PA. This article contains all the information you need.
Dates: June 6-8, 2014
Location: Carlisle Ford Nationals, Carlisle, PA
Cars: 1990 Emerald Green "7up" LX 5.0 Convertible, 1992 Vibrant Red LX 5.0 Convertible, 1993 Vibrant White LX 5.0 Convertible, 1993 Canary Yellow LX 5.0 Convertible
Read the Carlisle 2014 thread in the forums. For some history from prior years, see below.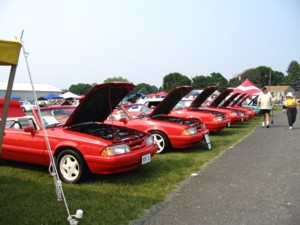 What cars are included?
All 1992 and 1993 Feature Mustang LX 5.0 Convertibles. Red, white and yellow as well as 1990 7-up Mustang LX 5.0 Convertibles. You do not need to be registered on this site in order to participate. Of course, I always encourage registration of 1992 and 1993 feature cars if you have not yet done so. Registrations help me greatly and have assisted in the planning for this event.
Registration
Registration is open for Carlisle Ford Nationals 2014. Go to store.carlisleevents.com to register. When you register, select under club that you are part of triplewhitefox.com. Generally, most with our cars fall into the Mustang - 1987 - 1993 Mustang LX - Stock (EXC Police, GT) class. It is class # 339 this year. Please let me know once you have registered so I can keep track of how many people are going.
Club Tent
As in past years, we will be reserving a tent. It has been a key component to having a good time each year. In past years it has kept us out of the scorching heat as well as shielding us from intense rain. The tent is usually located in the class in which we fall which, for most of us, is Mustang - 1987 - 1993 Mustang LX - Stock (EXC Police, GT). With the tent being located in this class your car can still be part of the voting. If your car belongs in another class such as if you have a lot of modifications then go ahead and register for that class. You can still park by our tent on Friday and Sunday which are more flexible since there is no voting. On Sunday you can park with your class for maximum votes and still hang out at the tent.
Anticipated attendees (updated 02/05/2014)
Here is the list of people who have communicated their intent to join us.
| | | | | | | |
| --- | --- | --- | --- | --- | --- | --- |
| Owner | 1990 Emerald Green 7-up | 1992 Vibrant Red Feature Car | 1993 Vibrant White Feature Car | 1993 Canary Yellow Feature Car | | From |
| John J. |   |   | 1 |   | Fri, Sat, Sun |   |
| Mike P. |   |  1 |   |   | Fri, Sat, Sun |  MA |
| Tom G. |   |   |  1 |   | Fri, Sat, Sun |  MD |
|   |   |   |   |   |   |   |
2013
details page | discussion thread
2012
details page | discussion thread
2011
details page | blog entries | discussion thread
2010
details page | blog entries | discussion thread
2009:
details page | blog entries | discussion thread
2008:
details page | blog entries | discussion thread
2007: