Part 1 of this pair of posts wasn't really a giveaway of a feature car. It was actually a feature car used in contest promotional materials in order to get your attention. And, that it did. There is at least one contest that was an honest to goodness feature car giveway. It was a contest from KISS 98.5 in Buffalo, NY offering a chance to win $10,000 in cash and a Limited Edition Mustang Convertible.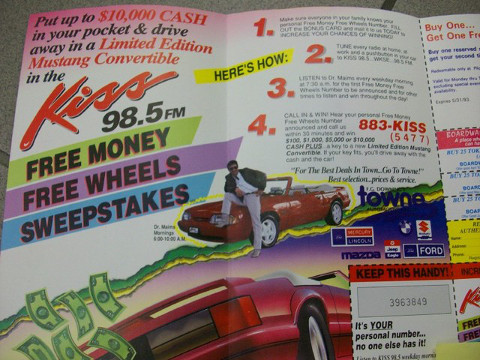 Everything I know about this is from a listing on ebay from 2009. The car from that listing has been on ebay several times. The last two listings included a set of images - some of which are included here. The car listed was undoubtedly described to be the giveaway car for this contest. The VIN is 1FACP44E6NF156804 and it's a 5 speed car. When listed, it had just over 1,000 miles.
This was one of those "if your key fits you win it" contest deals. The contest material listed Towne Ford in a sponsor-like way. The sales invoice and window sticker included with the ebay listing both list the now closed Jim Doyle Ford as the selling dealer. Both Towne and Doyle is/was in the Buffalo, NY area. The date on the sales invoice was 09/29/1992 meaning this contest occurred over the summer of 1992.
My guess is that the contest promotional material has continued with car and the current owner knows about the connection. And now you do, too.